Siwa Mgoboza holds a BA Fine Art from Michaelis School of Fine Art, University of Cape Town, where he graduated with
a distinction and dean's list in 2015. He was awarded the Eduard Louis Laden Art Bursary at The Michaelis School of Fine
Art and the Cecil Skotnes Award for most promising artist from the school (both 2015). He was named the 2015 Young +
African Visual Artist of the Year by Creative Nestlings.
Having been raised abroad for most of his life, Mgoboza's work deals with a globalized African sense of self, a Western upbringing, and the liminal spaces in which these identities exist. Mgoboza lives and works in Cape Town.
His work is featured in local and International collections.
Les Etres D'Africadia (2015)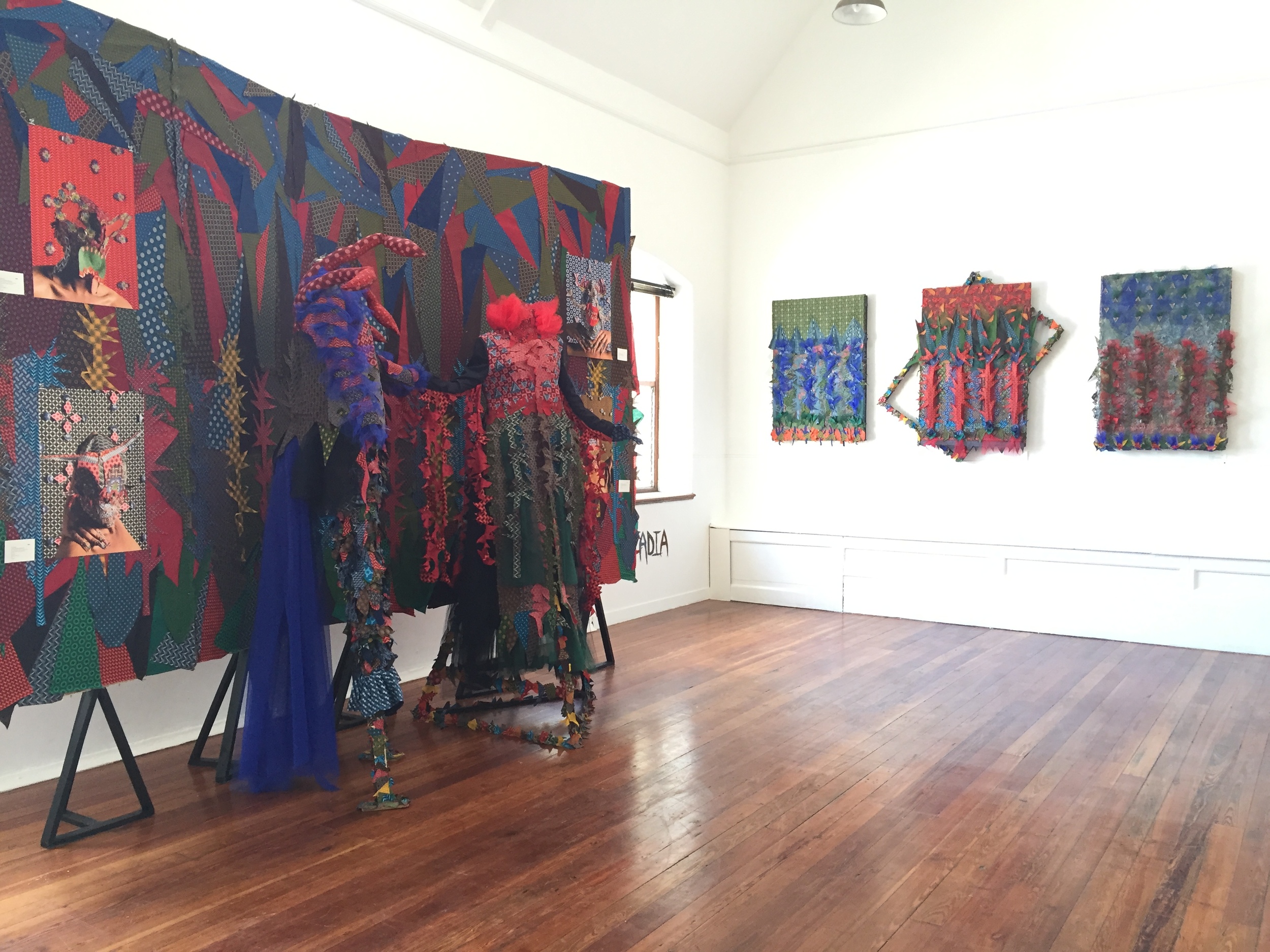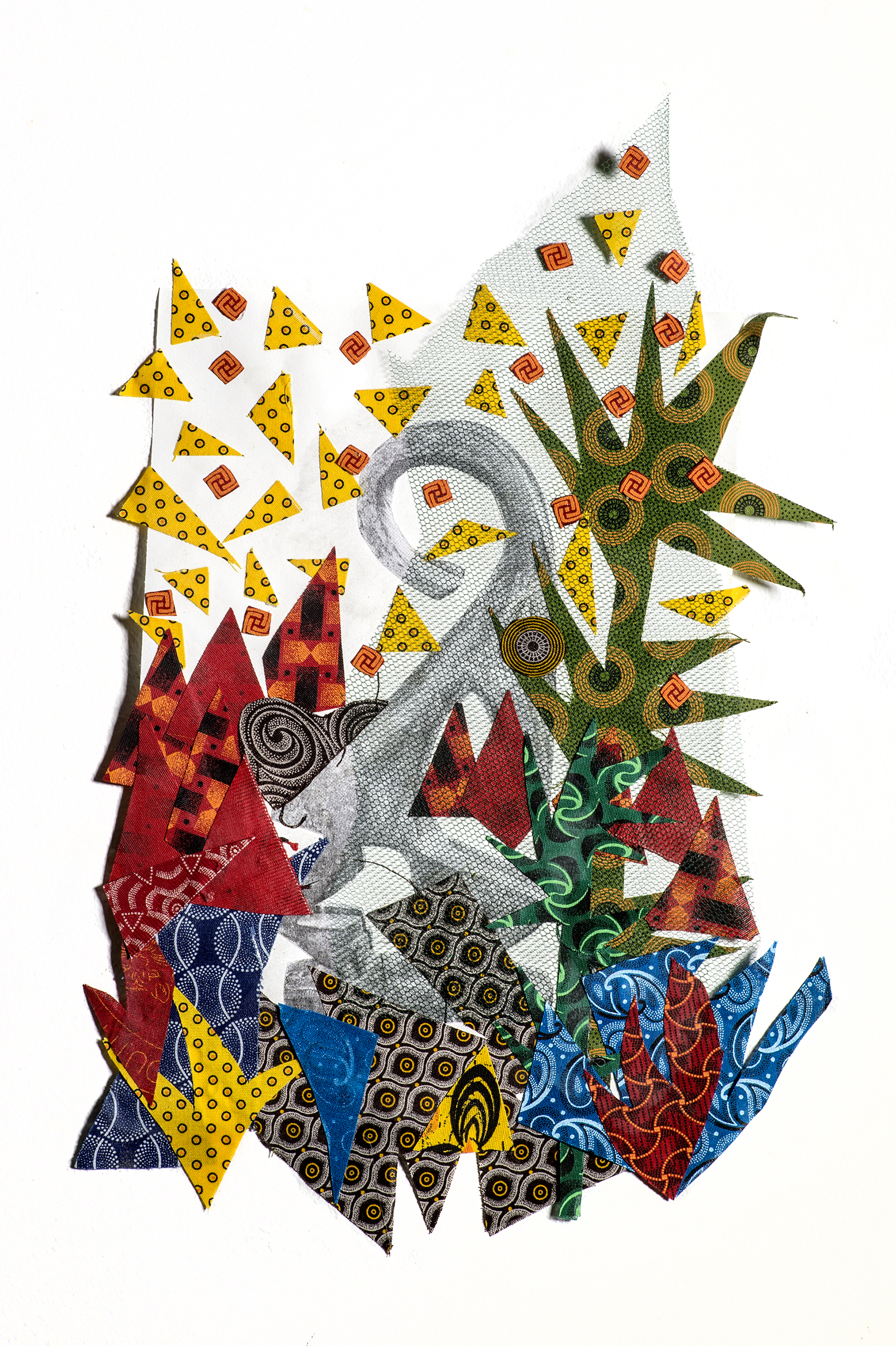 installation, wax-coated ishweshwe fabric, photographic prints, plywood, cotton thread, hardboard
Who Let The Beings Out? (2015)
Exhibition history
Solo Projects
• If Found Return to Africadia July 2016 – WHATIFTHEWORLD Gallery, Cape Town
• Africadia December 2015 – Graduate exhibition at Michaelis School of Fine Art , Cape Town

Group Shows
• Performance with Nobukho Nqaba at AKAA Art Fair, Paris (Art Meets Camera), 2016
• Nanjing International Arts Festival, 2016
• NANO July 2016 – Barnard Gallery, Cape Town
• Barlcay's L'Atelier July 2016 – top 100 finalist, Absa Towers, Johannesburg
• Turbine Art Fair July 2016 – 50ty50ty Studios (Black River Productions), Turbine Hall, Johannesburg
• Turbine Art Fair July 2016 – curated by Tanya Poole, Turbine Hall, Johannesburg
• Nothing Personal June 2016 – SMAC Gallery, Stellenbosch, South Africa
• Being and Becoming June 2016 – UNISA Art Gallery by !Kauru Contemporary African Art Project, Pretoria, South Africa
• PGH Photo Fair May 2016 – Carnegie Museum of Fine Art, Pennsylvania, USA
• New Monuments April 2016 – Commune1 Gallery, Cape Town
• Barlcays L'Atelier Western Cape Regional Finalist March 2016 – Rust-en-Vrede Gallery, Cape Town
• SA Taxi Awards February 2016 – Lizamore and Associates, Johannesburg
• That Art Fair February 2016 – Ebony Gallery, Cape Town
• Cape Town Art Fair February 2016 – AVA Gallery (Association for Visual Artists) booth, Cape Town
• Back To The Future February 2016 – Barnard Gallery, Cape Town
• Rose Korber Show December 2015 – AVA Gallery (Association for Visual Artists), Cape Town
• But He Doesn't Have Any Clothes On! November 2015 – Commune1 Gallery, Cape Town
• High/Fine/Not Art November 2015 – Michaelis School of Fine Art, Cape Town
• Persistence of Memory September 2015 – Untitled Studios, Cape Town
• Joburg Art Fair 2015 – Gallery (Association for Visual Artists) booth, Johannesburg
• Sasol New Signatures September 2015 – Top 110 finalist Pretoria Art Museum, Pretoria
• Printmaking Residency June 2015 - The AVA Gallery (Association for Visual Artists), Cape Town
• Not From Here May 2015 – Launch of First Thursday Jo'burg 70 Juta Street, Johannesburg
• Claims of The Land April 2015 – AVA Gallery (Association for Visual Artists), Cape Town
• Forming Impressions March 2015 – AVA Gallery (Association for Visual Artists), Cape Town
• Cape Town Art Fair February 2015 – AVA Gallery (Association for Visual Artists) booth
Awards
• Eduard Louis Laden Art Bursary 2015
• Michaelis Bursary Award 2013 and 2015
• Cecil Skotnes Award for most promising artist from Michaelis School of Fine Art 2015
• Nestlings Awards Young + African Visual Artist Of The Year 2015
Public Collections
• Carnegie Museum in Pittsburgh, USA
• University of Cape Town
• The Friends of the National Gallery of Isreal
• The University of South Africa Permanent Art Collection
• The Stack Bar, Cape Town
• The Laurete International Universities Collection
• Barclay's / Absa Art Collection
• Wedge Curatorial Projects, Canada